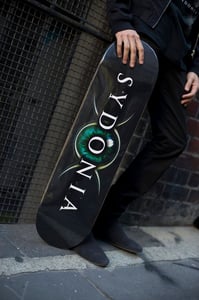 $

90.00 - On Sale
The Sydonia "Logo" Skateboards are available in different colours & sizes:
VERY LIMITED STOCK LEFT!!!
Black & Green Only
Email in regards to sizes we have left.
Please bear in mind we have to add AUD $20 for postage and handling. A little more if you're overseas. We'll get them to you as safe and as soon as possible.
Allow a bit of time for them to arrive as posties like to sand-board.
For our overseas customers, we apologize for the massive postage cost. That will reduce once we really start to get established... but of course the catch 22 is we can't get established without selling anything huh. Maybe contact me directly and we'll negotiate.
samsydonia@gmail.com
:)